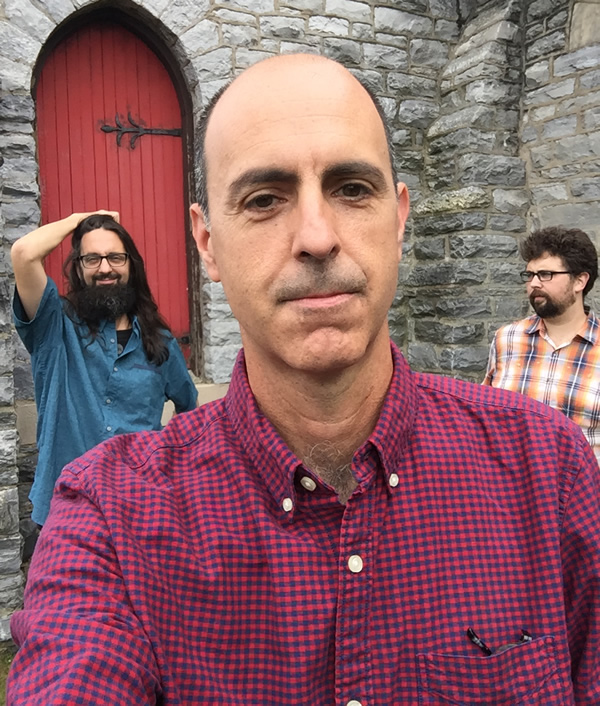 Geoff Simpson taught himself to play acoustic guitar listening to his parents' 1960's folk albums. He has played and accompanied group singing since high school. Music has been an integral part of his work - in schools and churches, youth groups and camps in Pennsylvania, Connecticut, Massachusetts and Virginia.
Geoff moved to Oxford, England, in 2008 to study and work. He discovered a vibrant local music scene with at least one open-mic within walking distance every night of the week (except Saturday). He wrote a few songs, expanding his repertoire, and performed at venues including The Cape of Good Hope, Folly Bridge Inn, and Old Bookbinders. In 2010, just before moving to Philadelphia, Geoff recorded ten original songs for an album.
Once in Philadelphia, Geoff recruited his brother EJ (bass, mandolin, vocals: The Goats; Maggi, Pierce & EJ; Sweetbriar Rose), and Owen Osborne (drums and percussion: The Beekeepers; The Describers), to perform for the album release of Oxford. Geoff, EJ and Owen continued as GEOtrio from 2010-2017, performing at coffee houses, pubs, house concerts and fund raisers.
In early 2017, Geoff Simpson & GEOtrio recoded two albums: Read My Heart (nine original songs by Geoff, one by EJ) at The Bunker Studio in Brooklyn, and Ragged Offering (Geoff's musical settings to eight 150 to 3,000 year old poems, hymns and psalms) at Kawari and Retro Studios in Philadelphia. Guest musicians include Bill Pratt - pedal steel, Tim Peck - hammond organ, John Davis - acoustic bass and therevox; Adam Flicker – keyboards and piano, Erik Sayles – electric guitar, Hoagy Wing - dumbek, Matt Muir – percussion and harmony vocal, Gary Gress – pipe organ, Bethann Dilione - harmony vocal. Both albums were released in June, 2018.
Geoff moved (solo) to Houston (July, 2017) just in time to experience hurricane Harvey flooding at his work place and home. Geoff has performed at JP Hops House, The Americana, and Anderson Fair (songwriters circle), and has become a regular at a number of area acoustic open mics. He has twice won the Houston Songwriters Associate song of the month competition.
Geoff's stylistic and lyrical influences include Neil Young, Bruce Cockburn, and Pierce Pettis. His thoughtful songwriting and performances have evoked comparisons to Paul Simon, Michael Stipe, Tom Rush, and James Taylor. His up-tempo acoustic songs capture the tension between hope and setback, joy and struggle, wonder and conviction. He has the ability to entertain while communicating his feelings about the predicaments common to human experience. By approaching issues from a variety of perspectives, his songs create the potential for conversation – with the songwriter, among an audience, or in the stillness of one's own contemplation.
Geoff Simpson Podcast: The Poverty of Illness of the Luxury of Health